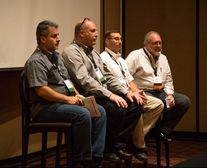 Chapters host quarterly meetings with educational sessions and discussions.

Want to be more involved?
Coming to the meetings and events is great, and we are glad you do; but you can make it more rewarding and gain peer recognition, by being more involved.  Help us make it a great resource for today and tomorrow. Use your talents and passions to make a difference. You can play a significant role at the local Chapter level or the National level.
​
You can choose what areas interest you the most and get involved. All members are welcome to participate in any areas listed below.
Chapter Level
Leadership team*

Chair, Vice Chair, Secretary, Treasurer, Historian, Member at Large, Vendor Liaison

Focus groups

Education, Marketing, Membership, Scholarship, Product Expos, and more

Events and networking
Mentorship
Photography
National Level
Leadership Team*

Chair, President, Executive Board member, Secretary, Treasurer, Member at Large, Vendor Committee

Focus groups

Education, Marketing, Membership, Scholarships, and more

Fleetcon

Agenda, Networking, Expo, Reverse Trade Show

Website and technology
Campaigns and special projects
Advertising
Photography
*Some positions on the Leadership Teams are elected by the membership. Add your name to the nominees if you are interested in helping guide FleetPros.