Upcoming Events

September 19-21, 2022
Las Vegas, NV



---

National Board Calendar


 
---
FleetPros Arizona
Weekly Shop Talk - Switching to monthly meetings on the 2nd Wednesday of the month during June|July|August.
July 13, 2022
August 10, 2022
@ 10 AM MST via Zoom


FleetPros Colorado
Weekly Shop Talk @ 9 AM MDT via Zoom


DOT Inspector Class
July 13, 2022
Regional Fleet Management Training July 27-28, 2022

FleetPros Nevada


FleetPros Texas
Monthly Shop Talk @ 9 AM CDT via Zoom

Quarterly Chapter Meeting
FleetPros Utah




Welcome Message
Founded in 1976, FleetPros is a non-profit fleet management association which strives to support fleet professionals through education, networking, and resources. We promote open exchanges of information on experiences, ideas, and methods. FleetPros actively works to ensure that appropriate educational programs are available to fleet professionals.

National Board and State Chapter Contacts

  Local Chapter Programming



COVID-19 Resources
Become a  member and get found in our online Members Directory.  Signing up is easy using our online Membership Application, so why wait?  Become a member today! Interested in FleetPros - not sure what it is all about - watch the 60 second video on our Annual Conference below.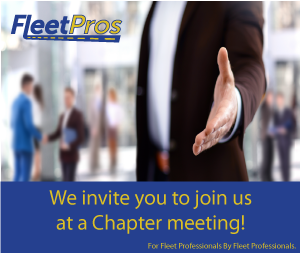 FleetPros Mission
FleetPros promotes open exchanges of information on experiences, ideas, and methods.  Our members provide leadership and knowledge in the field of vehicle and equipment maintenance and management in ordr to assist fleet professionals in developing and maintiang techniques and practices in their operations.