FleetPros Chapters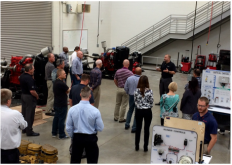 FleetPros was organized in 1976 by a group of fleet management professionals seeking to share their experiences and solve common problems. It has since grown to become one of the most progressive and innovative associations of its kind. The Association currently has five chapters - Arizona, Colorado, Nevada, Texas, and Utah - which include surrounding states.

Each chapter conducts three to four local meetings a year with a focus on education, networking, mentorship, and leadership. FleetPros members and prospective memebrs have the opportunity to meet frequently with other fleet professionals to exchange ideas and find solutions to common problems. These meetings bring together professional speakers, panel discussions and roundtables, or group discussions on a wide variety of fleet topics.

The Association also enjoys strong support from their associate members (suppliers). These valued associates keep FleetPros fleet management personnel informed about the latest innovations and product developments. In return, suppliers are provided a positive evironment to introduce their products and services and meet prospective clients at Chapter events.

Annually, FleetPros conducts a three day conference, FleetCon, which includes sessions on fleet and business management, FleetCon also offers a Technicians track which includes sessions geared specifically to technicians. FleetCon is hosted by our Chapters in rotation throughout the entire Association.

In order for a local group to become a chapter of FleetPros, you must apply for charter and be approved by the FleetPros Board of Directors. A chapter is approved when the local member group has agreed to abide by FleetPros policies and procedures; has submitted documentary evidence of its commitment and organization status; and the FleetPros Board of Directors has reviewed and approved their application. FleetPros formally recognizes new Chapters annually at FleetCon. Acceptance of a new Chapter gives the chapter the right to be represented in FleetPros governance and have access to all support services provided by the Association.