Communications Social Media Director
Position Description & Duties
POSITION FUNCTION:
Promotes awareness of the purpose and actions of WI SHRM through ongoing communication efforts and branding initiatives using social media tools. Makes sure that HR Professionals, both within and external to SHRM, are fully informed of WI SHRM resources and activities by using existing and developing social media. Works closely with other Council members to ensure that the Council is portraying a consistent and professional image to its members and to the business community at large.
RESPONSIBLE TO:
The State Council Director
RESPONSIBILITIES:
1. Create and facilitate the yearly communication plan with Secretary.
2. Facilitate state and national e-blasts for the Council.
3. Ensure that website content is up-to-date through regular reviews of website and work with all council members to ensure data is kept current on our web site.
4. Assist Secretary with the Council magazine as needed.
5. Assist State Council Director with gathering data to recognize new Council members and exiting Council members, including acknowledgements to their employers for allowing members to volunteer.
6. Assist Partnership Director with Requests For Proposals (RFPs) as needed.
7. Assist other Council members on various special projects and council communication for events, conferences, or activities.
8. Evaluates the Social Media landscape and decides what platforms will be good tools for WI SHRM
9. Works to understand and develop an effective strategy for use of new media, giving serious consideration as to how this impacts the roles of the councilís Secretary, Membership Director, and Legislative Director
10. Develop and maintain a cyberspace persona and become immersed in the culture and use of new media as a representative of the state council
11. Work to educate other WI SHRM council members (and local chapters as needed) about the use of new media, both from a technical perspective and from a business approach.
12. Collaborate with the state conference committee on the strategy for social media promotion.
13. Develop a relationship with SHRM to understand and promote SHRMís position on social media
14. Consult with other state council representatives to compare best practices on use on new media with respect to promoting the state council, state conference, and chapters
15. Attend State Leadership Conferences to assure representation for this critical area of responsibility
16. Perform other duties as assigned by State Director
Must be a SHRM member in good standing. SHRM certification highly desirable
Some experience as a chapter officer desired
Appointed by the State Council Director
Serves a one-year term beginning the first day of January and ending the last day of December. May be reappointed for two additional one-year terms for a total service of three years.
Contact Information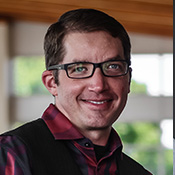 Ryan Derber, SPHR, SHRM-SCP
Communications Social Media Director
Great Oak Solutions, LLC
PO Box 48
Oshkosh, WI 54903
Ph: 920.642.0002
Em: ryanpaul610@gmail.com

Term began: 1/1/2018

---
Biography
Ryanís passion for training and development grew out of his early work with the American Red Cross when he began instructing lifesaving skills courses at age 17. After graduating from the University of Wisconsin Oshkosh with a BBA in Human Resources and a BA in Speech Communications, he worked full time as the HR Manager for the American Red Cross of North East Wisconsin. Every day was a rewarding and meaningful experience as he worked alongside hundreds of paid and volunteer staff who all shared his enthusiasm for the humanitarian mission of the Red Cross.

After obtaining his MBA from the University of Wisconsin Whitewater in 2009 and his SPHR designation in 2010, Ryan transitioned into more of a strategic role allowing him to work across all areas of HR in a field support role for a global manufacturing company. Always a champion for change, Ryan has spent his years in the Human Resources field leading efforts for global communications around systems training, policy rollouts and software implementations.
The Society for Human Resource Management has been a part of Ryan since his undergraduate work where he held the role of President of the University of Wisconsin Oshkosh Chapter. Since then, Ryan has held board roles with the Fox Valley SHRM Chapter, served on several WISHRM conference committees, and was a former WISHRM State Council Director of College Relations.

In 2017 Ryan decided to take the leap and enter the world of freelancing and contract HR work, starting up Great Oak Solutions, LLC which specializes in all forms of learning design from instructor lead training to eLearning courses.
Additional Information